Travel to Guatemala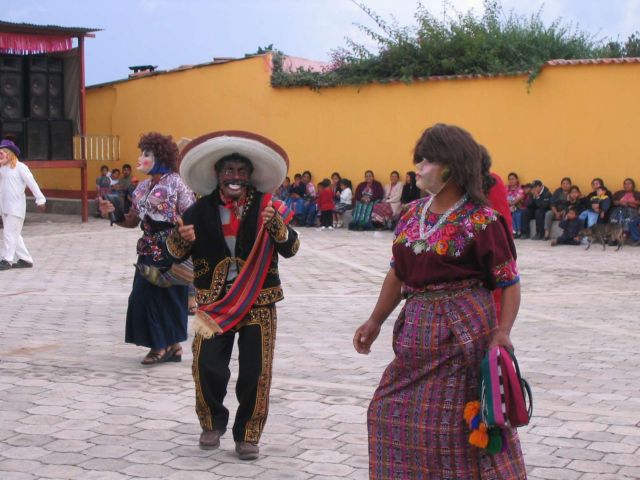 Guatemala is a colourful country with an intriguing culture in spite of its painful history. Known by many names during time: Land of the Eternal Spring, Iximulew (Land of the Corn), Goathemala (Land of the Trees), and Guatamala (by a spelling error), the land of Mayas and Mestizos offers everything a visitor will want for, whether (s)he is looking for a travel experience out of the ordinary, excellent Spanish courses, or an opportunity to do meaningful voluntary work.
Spanish Language School in Guatemala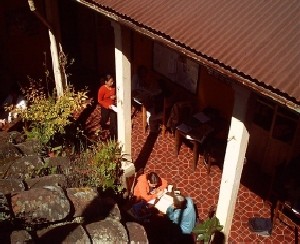 Guatemala is the place to go if you want to learn Spanish. The beauty of the country is renowned, Spanish schools are inexpensive, and foreigners have little difficulty in understanding the local Spanish language as it is close to the Castilian standard spoken in Spain.
Learn Spanish at language school in Quetzaltenango (Xela)
Proyecto Lingüístico Quetzalteco de Español
(PLQE) is famous for being one of the best Spanish language schools in Latin America, and it has been ranked as No. 1 among Guatemalan language schools. Travellers to many countries in Central or South America take Spanish courses at the PLQE before they travel on. The "total immersion" language programme with homestay (optional), one-on-one teaching and volunteer opportunities provides for a very intensive experience.
The history of the PLQE goes back to 1988, when the school was established to raise money for Human Rights work in the town of Quetzaltenango, which is known by Mayas as Xela. Since then the school has made its reputation from its combination of high quality teaching and a commitment to the social and political development in Guatemala. At the PLQE you will not only be assigned a very competent and experienced teacher of Spanish, you will also acquire an in-depth knowledge of the history and culture of Guatemala. This is the reason why the PLQE is the preferred language school for volunteers and developmental workers from Danish, European and North-American organisations that work in Guatemala. For the same purpose the PLQE cooperates with universities in Europe and North America in developing further programmes in teaching.
The school also offers courses in K'iche' (Quiché), the language spoken by the largest Maya indigenous group today, and which is the language of the famous book of ancient history and myths of the Maya K'iche', the Popol Wuj (Popol Vuh).
Contrary to what is the case in the city of Panajachel, Quetzaltenango has avoided being dubbed "Gringotenango". In Quetzaltenango you will have ample opportunity to study Spanish and experience Guatemala without constantly bumping into tourists, and you need not worry about ending up speaking English outside school hours as it very often happens to students who choose a Spanish school in Antigua Guatemala or Panajachel.
Classes are daily (Monday-Friday), five hours a day on a one-on-one basis in which your personal teacher adapts the study material to suit your demands and level. Outside school hours and in the weekends you may want to take part in excursions or other activities and projects organised by the school.
You will stay with a Guatemalan family within walking distance of the school to make your experience of the culture and the Spanish language even more intense.
The school has an extensive network of contacts to Guatemalan organisations and local projects that employ volunteers from abroad. Therefore the PLQE is also used as a basis for Danish Third World Aid organisations when they send volunteers to Guatemala. All students may make use of the school's contacts if they want to test their proficiency in Spanish in a voluntary job during or after their stay at the school (see below).
The Mountain School
Together the two schools constitute the 'Hermandad Educativa'. I know both schools from my work in the Danish Central America Committee and have studied with the Hermandad on several occasions. Today I am the official contact for the Hermandad Educativa in Denmark and in Europe, hence registration goes through me.
Registration and further information about the schools
Students from all over the world come here to study Spanish. You should apply in advance, as our schools are usually fully booked.
European Office:
Write to Mikkel at hermandad@lakjer.dk to register or obtain further information.
North American Office:
Write to Dan at johnsond@televar.com for registration or further information.
See photos from the PLQE in Quetzaltenango (Xela)
See testimonies from former students at the Mountain School
Visit the official websites of the Hermandad Educativa or Escuela de la Montaña (in English).
Voluntary Work
If you like, the Hermandad will help you find voluntary work according to your interests, and which you will be able to carry out during or after your stay at the school.
The nature of your volunteer work depends on for how long you want to commit yourself and on your fluency in Spanish. The work with orphans requires more Spanish than that of building houses. Former volunteers have taught English, music, and painting to children; worked with handicapped or homeless children; helped in the construction of houses; worked on pig farms; planted trees; and picked coffee beans.
Mikkel Møldrup-Lakjer
Aarhus, Denmark
Opdateret d. 24.11.2005