Collect Call
(Text and image from the producer's catalogue reproduced with kind permision from Luis Argueta)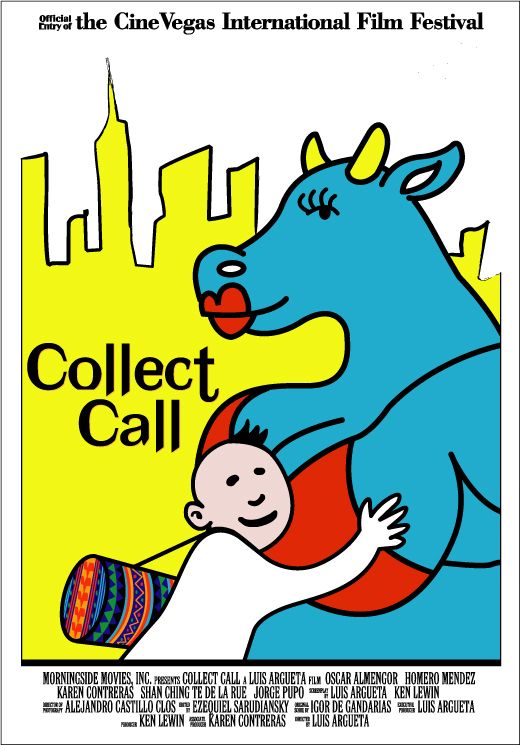 Directed by Luis Argueta
Distributed by Mayamedia
82 minutes - digital video - color.
"COLLECT CALL resonates with an honesty in both characters and settings, blurring the lines between truth and fiction. It fashions multi-dimensional characters doing what they must to survive in two extremely different locations. Exquisitely capturing the gray zone that is life, instead of residing in the black or white, COLLECT CALL portrays a wonderful journey about resiliency through broken dreams that everyone can relate to."
Trevor Groth, Director of Programming
CineVegas International Film Festival
Synopsis
Oscar (Oscar Almengor) is a young man who lives on the family farm in the remote village of San Andrés, in the highlands of Guatemala. In hopes of re-starting an acting career in NYC, Oscar makes a collect call to his friend and film director Luis (Jorge Pupo) who agrees to take him under his wing and help him find work in NY.
Oscar's father (Homero Mendez) opposes him leaving home fearing his son will be exploited and humiliated in NY. However, his wife (Rosa Mendez) convinces him that their son's future in Guatemala is not much brighter.
After sorting through a series of obstacles Oscar buys a ticket, travels to the capital and boards a plane for NYC. Upon arriving Oscar discovers that Luis has departed on an unexpected business trip and is left under the care of Luis' girlfriend Angélica (Karen Contreras) and Chucho (Shan Chingête de la Rue), the driver. This pair is secretly having an affair, look only after themselves and take Oscar for the ride of his life, stealing his money and his innocence along the way.
Oscar hits bottom, rebounds, and uses all his ingenuity and resources to turn the tables on Angélica and Chucho. A triumphant Oscar is finally able to send home the dollars that his family has been anticipating for so long.
COLLECT CALL is Luis Argueta's second feature film; shot on DV on location in New York City and Guatemala. By placing actors in real situations and encouraging improvisation, the film effectively blurs the line between fiction and documentary. The result is an authentic, insolent and humorous vision of the pursuit of the American dream.
Biographies
Luis Argueta (a.k.a. Shan Chingête de La Rue)
Writer / Director / Executive Producer
Luis Argueta framed his University of Michigan's Industrial Engineering degree, sent it to his parents, and went on to study film and literature. Before founding Morningside Movies he worked in Europe as Fernando Arrabal's Assistant Director on Guernica, and in New York with legendary commercial directors Elbert Budin and Henry Sandbandk. His documentary, The Cost of Cotton (1978), won awards in Sweeden and France, and was broadast in the US on PBS. His awards as a director of commercials for the general and Hispanic market in the US, include Clios, Tellys, Se Habla Español and Addy's. His first feature film The Silence of Neto (1994) premiered at the Sundance Film Festival and went on to win awards at 6 other international Film Festivals. Collect Call (2002) is his second feature film.
Ken Lewin
Co-Writer/ Co-Producer/ B-Camera
Ken Lewin moved from Austin, Texas to New York City upon graduating from film school at the University of Texas at Austin. Armed with an award-winning student short, "Spooky," Ken worked his way up to staff producer at Morningside Movies. After two and a half years in New York, Ken returned to Austin and continued to work as a producer, production manager, first assistant director, and location manager on a wide variety of projects, from large scale studio features to still shoots. In between, Ken continued to write spec screenplays and direct his own short films. Currently, Ken splits his time between directing commercials and documentaries for numerous clients and screenwriting for clients and for spec projects.
Alejandro Castillo
Cinematographer
Guatemalan native Alejandro Castillo studied film at NYU and U.C.Berkely and has worked extensively as a freelance cameraman around the world. He has performed assignments in all different acquisition formats, from digital video to film, with all major U.S. television networks and cable channels. His expertise includes documentaries, investigative new programming (20/20, 60 minutes, 48 hours, Dateline) and HBO's "America Undercover " Series -"Taxicab Confesions." He worked as camera operator alongside DP Anthony Dod Mantle in Harmony Korine's "Dogma95" feature film "Julien Donkey-Boy". Castillo has worked with Morningside Movies in various documentary projects. He divides his time between Guatemala and NYC.
Ezequiel Sarudiansky
Editor
He studied graphic design in his native Argentina and broadcasting design at the School of Visual Arts in NYC. He is the author of many experimental video pieces, shorts and commercials.
Oscar Almengor
Lead Actor (Oscar)
Oscar Almengor hails from the Pacific coastal city of Coatepeque, Guatemala, where he performed in many plays in the local theatre. At age twelve Oscar starred in "The Silence of Neto". He currently studies drama at the Bellas Artes University in Mexico City. There he also acts on stage, music theatre and commercials.
Karen Contreras
(Angélica)
Native New Yorker of Guatemalan ancestry. Studied at the American Accademy of Dramatic Arts and has appeared in films and commercials with directors such as Spike Lee and Boaz Yakin.
Jorge Pupo
(Luis)
Cuban born actor and NY resident for 22 years. Among his films is "Bitter Sugar" (Yiyo) directed by Leon Ichaso. He has also been a memeber of NY's Repertorio Español, has appeared in Law and Order and many TV commercials.
List of credits
| | |
| --- | --- |
| Oscar | Oscar Almengor |
| Father | Homero Mendez |
| Sister | Claudia Mendez |
| Little Sister | Laurita Mendez |
| Brother | Dylan Mendez |
| Mother | Rosa Mendez |
| Grandmother | Abuelita Mendez |
| Sister | Patty Mendez |
| Sister | Priscilla Mendez |
| Brother | Moises Mendez |
| Angélica | Karen Contreras |
| Chucho | Shan Chingête De La Rue |
| Luis | Jorge Pupo |
| Executive Producer | Luis Argueta |
| Director | Luis Argueta |
| Sreenplay | Luis Argueta |
| Associate Producer | Ken Lewin |
| Director of Photography | Karen Contreras |
| Original Music Score | Alejandro Castillo Close |
Opdateret d. 15.9.2005